Central Statistics Office Release First Household Finance and Consumption Survey
This January the Central Statistics Office (CSO) has for the first time released the results of the Household Finance and Consumption Survey.
Taken in March to September 2013, the HFCS survey of 5,419 households was undertaken by the CSO on behalf of the European Central Bank.
The new statistics provide an insight into a range of different areas, including household assets and liabilities, income, spending and credit information.
The Irish Times times picked out the statistic that at 72.7%, the average household median mortgage debt to LTV is the highest in the Euro area.
The HFCS statistics release includes regional statistics from inside Ireland. The following chart shows the median value of household debt by region in Ireland.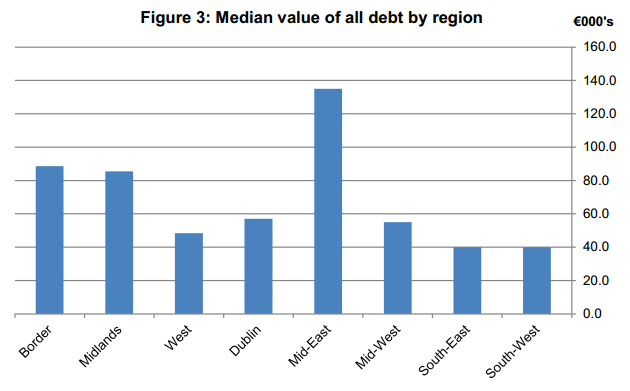 The Mid-East has the highest amount of debt, followed by the Border and Midlands regions.
Dublin has the fourth highest median value of debt.
The survey shows that 56% of Irish households have some form of debt.
A third of households – 33.9% – have a mortgage on their main residence, and the average mortgage debt is €129,000.
Source: CSO Press Release
Main image by Federico Grechi @ Flickr.
Debt
Loans